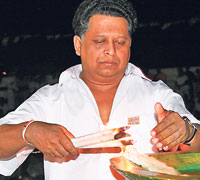 The launching ceremony of award winning director Jayantha Chandrasiri's latest cinema venture 'Dutugemunui', life story of King Dutugemunu, the greatest of Sri Lankan kings took place in Anuradhapura.
The Muhurath for the film with religious ceremonies was held in front of Ruwanwelisa Dagoba in Anuradhapura, one of the greatest creations of King Dutugemunu. During the ceremony through satellite communication, President Mahinda Rajapaksa congratulated the director Jayantha Chandrasiri, his cast and other artistes who were involved in the film.
At a time when people talk much about the unification of the country with the victory in the war, Jayantha is making the film a biography of the king Dutugamuni who is hailed for unification of the country in the second century BC.
The biopic combines the legends and extensive research involving the Mahavamsa, Deepavansa, Thupavansa, Rajavaliya and Rasavahiniya is to highlight the bravery and humane qualities of King Dutugemunu.
"Initially buy clomid online cheap my idea was to make a teledrama on king Dutugemunu. But I realized that the story was more suitable for cinema and I also think that it is timely as it talks much about ethnic harmony. I strongly believe that the story of Dutugemunu can be used to enhance racial harmony. In fact, this is one of the objectives of the film" said Jayantha describing his film.
"King Dutugemunu was a great human being and a promoter of ethnic harmony. I believe that the real King Dutugemunu is hidden in history under exaggerated false stories and misconceptions," the director said. "My aim is to show the real character of this great king who gave much to the country and culture," Jayantha added.
The film also depicts the personal life of Dutugemunu how he fell in love with a village damsel Ranmenika when he was hiding in Kotmale and made her his queen when he became king.
King Dutugemuni is to be played by talented actor Thumindu Dodenthenna and Elara by Jackson Anthony. The role of Ranmenika is played by Oshadi Dias and Viharamadevi by Kusum Renu and Kavanthissa by Sriyantha Mendis. Yashoda Wimaladharma will play the role of Elara' wife while Saranga Dissasekara is to play prince Saddhatissa.
Others in the cast include Kamal Addararachchi, Damitha Abeyratne, Buddadasa Vithanachchi, Buddhika Jayaratne, Robin Fernando, Rex Kodippili, Arjuna Kamalanath, Bimal Jayakody, Dimuthu Chinthaka, Gamini Jayalath, Nilanthi Dias, Dharshan Dharmarajh, Ajith Weerasinghe, Srinath Maddumage, and Jerald Fernando.
The film is produced by Malee Hettiarachchi, Shantha Hettiarachchi and Thusitha Haloluwa for Cinemaneth pvt Ltd is to be one of the biggest budget films in the Sri Lankan cinema history.
The main location of Dutugemunu will be Weerawila and shooting is to commence soon.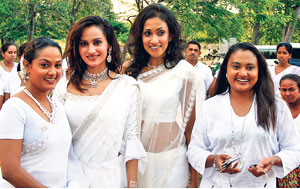 Incoming search terms for sinhala movies:
Related posts:
Tags: Jayantha Chandrasiri, King Dutugemunu, Oshani Dias, Sinhala Film Dutugemunu