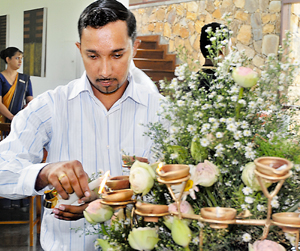 More Pictures…

Film information
Name : Uththara
Colour : Colour
mm : 35 mm
Main Actor : Suraj Mapa
Main Actress : Hasini Gonagala
Director : Sandun Rajakaruna
Producer : Vajira Rajapaksa
Cast
Actor : Shan Bandu Weerasinghe
Actress : Udayanthi Swarnakumari
Actor : Janith Wickremage
Actor : Sahan Ranwala
Actress : Upeksha Swarnamali
Actress : Vishaka Siriwardana
Actor : Wasantha Kumarasiri
Actor : Daya Alwis
Actor : Sanath Gunathilaka
Actor : Anton Jude
Main Actress : Hasini Gonagala
Main Actor : Suraj Mapa
Crew
Production Manager : Maduranga Jagoda
Music Director : Rohana Weerasinghe
Art Director : Chamikara Bokaragoda
Script : Mahesh Rathsara Maddumaarachchi
Make-up Artists : Naradha Dananjaya Thotagamuwa
Camera : Chandana Dharmapriya
Director : Sandun Rajakaruna
Producer : Vajira Rajapaksa
More Pictures…

Young teledrama director and playwright Sandun Rajakaruna begins his journey as a filmmaker with 'Uththara', a film produced by Vajira Rajapaksa. The Muhurath ceremony was held at 'Waters Edge' last week with the participation of the cast, crew and film personalities.
'Uththara', a love story blended in a political setting, produced by Vajira Rajapaksa for Cinelka Films is played by Sanath Gunatillake, Suraj Mapa and Hasini Gonagala who makes her debut in the silver screen, in the lead roles.
Chandrasiri, Anton Jude, Daya Alwis, Wasantha Kumarasiri, Vishaka Siriwardena, Upeksha Swarnamalee, Sahan Ranwala, Janith Wickremage, Udayanthi Samankumari and Shan Bandu Weerasinghe.
'Uththara' revolves around the story of a young man, Shanilka whose heart and life is devoted to music. And Uththara is a young beautiful girl who is attracted to the young musician, Shanilka and the film depicts their love, the trials they face and the heartaches they undergo.
The technical team comprises Chandana Dharmapriya as a cinematographer, Naradha Dananjaya Thotagamuwa as a makeup artiste, Mahesh Maddumaarachchi as the script writer and Chamikara Bokaragoda as art director.
Rohana Weerasighe handles the musical score while Bathiya Jayakody made the tunes to the verses of Bandula Nanayakarawasam and Kelum Srimal to which voices are rendered by Pradeep Ranga, Uresha Ravihari, Santhus Weeraman and Kasun Kalhara.
Maduranga Jagoda is the production manager. Sandun : Debut director. Starting as a playwright from Matale, Sandun produced a number of stage plays at provincial level from 1995 to 2000 and entered the miniscreen as an assistant director.
From Eranga Senaratne's 'Dipashika', Sandun has assisted more than 20 teledramas under directors like Thusitha de Silva, Dee Gee Somapala, Janaka Siriwardena and Jayalath Manoratne.
'I am grateful to the guidance and direction I received from these directors' Sandun said. Sandun became a teledrama director with 'Ithin Mata Awasarai' which is in line to be telecast.
'Having trained in the stage and miniscreen, any director's dream is to enter the cinema and I am very happy that I have got this opportunity' Sandun said speaking to the TV Times.
Promising young star Suraj Mapa who is known for his acting and exceptional dancing skills will join Hashini Gonagala of Sirasa Dancing Stars fame in the maiden film to be directed by talented youngster Sandun Rajakaruna.
Vajira Rajapaksa who is a lawyer will produce the film titled 'Uththara' while Mahesh Rathsara Maddumarachchi will be in charge of the screenplay.
The muhurath ceremony of the movie was held at Water's Edge last week amidst the participation of distinguished guests including the cast members, NFC Chairman Jayantha Dharmadasa, Consultant T. M. Sangadasa and several others.
Sanath Gunathilaka, Suraj Mapa, Hashini Gonagala, Shan Bandu Weerasinghe, Sarath Chandrasiri, Anton Jude, Daya Alwis, Wasantha Kumarasiri, Vishaka Siriwardana, Maureen Charuni, Upeksha Swarnamali, Sahan Ranwala, Janith Wickramage, Lal Kularatne and others play key roles in Uththara.
Veteran Rohana Weerasinghe will be in charge of the music while Uresha Ravihari, Pradeep Rangana, Bathiya Jayakody and Kasun Kalhara will contribute with the vocals.
Chandana Dharmapriya will handle the camera, Chamikara Bokaragoda the art direction, Narada Dhananji Thotagamuwa the make up while Manjula Prasanga will assist in the direction. Maduranga Jayakody is the project's production manager.
New face lights up silver screen


Hashini Gonagala
More Pictures…
Dancing might have been her middle name for it not only brought her luck and accolades but also provided her with the opportunity to step into the silver screen at a very young age. At 17, Hashini Gonagala has it all – talent, fame, fortune and the looks to keep her going in the celebrity scene. Thus it is no surprise when the rumour mill did the round that this petite lass had caught the eyes of many of the directors who were on the search for a new face to mesmerize moviegoers.
Q: You have had many offers ever since you clinched the title of 'Sirasa Dancing Star' in season one along with Dushyanth Weeraman.
Yes, I believe dancing brought me luck. I was offered characters in several films and the latest is a movie by Roy de Silva. I had to refuse most of the offers that came my way because of my studies.
Q: You entered the movie scene at a young age and even made it the league of bagging main roles. How do you see this?
(Laughs) I'm really happy. It's true that not everybody gets such a good break- through like I did. Even veteran actress Malini Fonseka entered cinema at a tender age so I consider it an achievement indeed.
Q: How did you get into dancing?
Dancing was one of my inborn talents. From 12 I studied under Channa Wijewardena. Though I like any dancing style, I'm mostly into ballet and hip hop. I hope to come up with a style of my own in the future.
Q: You portray the lead role in Sandun Rajakaruna's Uththara. How did that opportunity come your way?
Suraj Mapa who is the male lead of the movie had recommended my name to the director. He called me while I was still engaged in practices for the finals of 'Sirasa Dancing Stars'. Since my parents had no objection, I signed up for the role. Uththara is somewhat like me in character meaning she has a passion for art.
She is the daughter of a minister. She notices immense talent in a young musician and helps him to emerge into the limelight.
They fall in love but her father soon discovers their relationship. He has other plans for her.
The story flows through many clashes and obstacles. It includes a lot of music and dance scenes.
Q: Though Uththara is an innocent and charming character, you have taken on an entirely different role in your second movie, 'Dancing Star'.
Yes, she is also wealthy but she has a mean streak. She is the daughter of Ravindra Randeniya and Malini Fonseka.
It was thrilling for me to act with them. My character realizes from her mistakes at the end.
Q: How was the experience facing the camera for the first time for the movie?
I did feel a little nervous but I had been used to the camera focusing on our moves while performing for the reality program.
The directors guided me and veteran actress Anoja Weerasinghe too had a lot of words of wisdom to offer. I took part in one of her workshops before the shooting sessions.
Q: Will you take up more roles in the future?
It depends on the offers. I would like to take roles suitable for me in quality productions while helping my father with his business.
I am also studying commerce for my Advance Level examination.
Q: What about singing? Wouldn't you like to pursue a career in that sector?
(Laughs) I can't sing so the answer is no.
Incoming search terms for sinhala movies:
Related posts:
Tags: Film Uththara, Hasini Gonagala, Sandun Rajakaruna, Sinhala Film Uththara, Suraj Mapa, Uththara