Related links
Sinhala Film Pitasakwala Abirahasa Story
By Susitha R. Fernando
It was on April 25 this year, one of the leading scientists in the world, Stephen Hawking, warned the world that 'extraterrestrials are almost certain to exist but humanity should avoid any contact'. In a series broadcast on the Discovery channel, Hawking said that contact with such a species could be devastating for humanity.
This was precisely the theme of young filmmaker Nirmal Rajapaksa's debut film, who by then had completed his direction on the dangerous threat of aliens to the humanity.
View more pictures and Videos…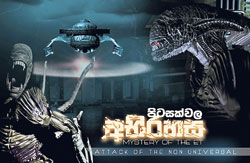 The film titled 'PitasakwalaAbhirahasa' (The Mystery of ET) talks about a young man who tries to make contact with the extraterrestrials and the repercussions faced by him and the entire humanity. It shows the valiant attempt by another group of youngsters to prevent oncoming danger from the aliens.
The budding filmmaker, who passed out from a training course for film directors conducted by the National Film Corporation (NFC), ventured into the challenging task of making a 3-D animation film.
Young Nirmal managed to develop his own technology with whatever he could collect from the local market and, if necessary, from abroad.
"I wanted to search for the filmmaking technology and exploit it with my very first film," said the 25-year-old determined director.
"For this purpose, I contacted some students of Gnomon School of Visual Effects in Hollywood. It was there the special effects used in films like 'Harry Potter' and 'Spiderman' were made," young Rajapaksa said.
Nirmal Rajapaksa spent nearly one and a half years to study the animation technology and he was thankful to the Arthur C. Clark Foundation and the Universities of Moratuwa, Kelaniya and Colombo for their support.
The project that was launched on July 2009 was completed by January 4 this year. This is a film that was produced in a digital environment with 100 per cent computer graphics.
His friend, 3-D Animation Director Induranga Weerasuriya, created three alien creatures, two space ships and a number of other creations including a digital theatre with the limited technology available.
"At one point, we wanted a steady camera to shoot in the forest and we made it using local technology," said Nirmal. The entire film has undergone a colour grading.
The film was shot in Kandy, Digana, Balana and the Sinharaja forest while some urban scenes were shot in Gampaha, Negombo and Kiribathgoda.
View more pictures and Videos…
Nirmal Rajapaksa
The film team, both cast and the crew, comprises almost all amateurs. Young Lasantha Kamalsiri and Shamila Vijini play the lead role while Vimukthi Udara, Maduri Poornima, Arosha Kanchana, Randhika Nuwan, Anjula Gamage, Thilina Anuradha and Chamila Dhananjani play the supporting roles.
Kaushal Stanley and Sudesh Nissanka handle the special sound effects department in addition to creating the originalscore for 'Pitasakwala Abhirahasa'. The art director is Deepthi Bandara and lighting was handled by Ranga Sri while experienced sound engineer Lionel Gunaratne of Sarasavi Studio was in charge of the sound control.
In addition to directing, Nirmal also plays a multirole as the scriptwriter, camera director, editor and main producer. 'Pitasakwala Abhirahasa' is co-produced by NFC and the film which is in its postproduction stage is soon to be released to the public.
article from sundaytimes.lk,
Sinhala Film Pitasakwala Abirahasa Photo Gallery

View more pictures and Videos…

pictures from films.lk
Incoming search terms for sinhala movies:
Related posts:
Most Popular Search Terms for Sri Lankan Movies, Films and Cinema.