Sri Lankan Sinhala Film Miringu Yathra by Channa Perera at www.sandeshaya.org movie and cinema
Sinhala Film Miringu Yathra Cast
Actor : D.B. Gangodathanna
Actor : T.M. Abeyrathna
Actor : Sandun Wijesiri
Actor : Saman Almedha
Actor : Gunadasa Madurasingha
Actor : Tyron Micheal
Actor : Teddy Vidyalankara
Actor : Nihal Fernando
Actor : Hemasiri Liyanage
Actress : Iranganie Serasinghe
Actor : Sanath Gunathilaka
Actress : Shalani Tharaka
Main Actor : Channa Perera
Sinhala Film Miringu Yathra Crew
Editor : Pravin Jayaratne
Story : Channa Perera
Script : Kapila Kumara Kalinga
Production Designer : Chandana Weerasinghe
Art Director : Chandana Weerasinghe
Cinematographer : Prabath Roshan
Sound Management : Pravin Jayaratne
Music Director : Rohana Weerasinghe
Make-up Artists : Sameera Madhu Kidelpitiya
Assistant Director : Donald Jayantha
Choreographers : Shan Perera
Production Manager : Gunathilaka Ranawaka
Producer : Sunethra Balasooriya
Producer : Perly Wijesingha
Producer : Harsha Gamaathige
Sinhala Film Miringu Yathra Description
Channa Perera who has clinched the most popular actor award in both the film and tele drama versions, made his debut in Dr. Lester James Peiris' tele drama 'Golu Hadawatha' and later followed it up with small screen hits Thimira Pawwa, Eka Gei Kurullo, Wassane Hiru Ewidin, Sathpura Wesiyo, Suriya Daruwo, Sawsiri Uyana, Prema Parami and several others.
As a director he proved his prowess in several tele dramas, commercials while making it big as an actor on silver screen through films like Sujatha, Dhawala Pushpaya, Theertha Yathra, Undaya, Anjalika, Hadawatha Mal Yayai and others.
He made his debut as film director with 'Anjalika' introducing bubbly actress Pooja Umashanker to the Sri Lankan cinema.
The reigning romantic hero of the Sinhala cinema always dares to be different, and that has indeed made Channa Perera a different brand of star – a star who can act, a star who can direct and of course a star who could sing….Proof? Mega Star on Swarnavahini.
And now Channa has started another courageous mission by accepting the challenge to direct a new adventurous love story called 'Miringu Yathra'.
The muhurath ceremony was held at the National Film Corporation's Tharanganee Hall last week amidst a large gathering.
The film will be produced by Sunethra Balasuriya, Pearly Wijesinghe and Harsha Gamaethige.
Channa Perera, Sanath Gunathilaka, Iranganie Serasinghe, Hemasiri Liyanage, Nihal Fernando, Shalini Tharaka, Gunadasa Madurasinghe, Saman Almeida, Sandun Wijesiri, T. M. Abeyratne, D. B. Gangodathenna and others play the key roles in 'Miringu Yathra'.
Prabath Roshan will handle the camera, Kapila Kumara Kalinga the screenplay, Rohana Weerasinghe the music, Sameera Madhu Kindelpitiya the make up, Shan Perera the choreography, Uresha Perera and Udaya Sri Wickremaisnghe (Centigradz) will be the playback singers while Donald Jayantha will assist in the direction.
Sinhala Film Miringu Yathra Photo Gallery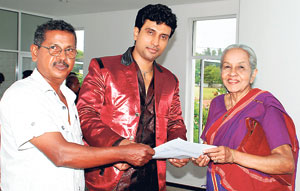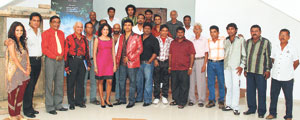 By Dyan Pathiravithana
The muhurath festival of Channa Perera's latest creation 'Mirigu Yathra' was held recently at the National Film Corporation premises with the participation of a lot of distinguished invitees.
Prominent figures both in the teledrama and film industry such as Sanath Gunathilake, Chandrarathne Mapitigama, Udayakantha Warnasooriya, Irangani Serasinghe and Yashodha Wimaladharma including many others graced the occasion.
The story line of 'Mirigu Yathra' begins when a yellow Volkswagen moves forward over a misty and hilly way, appearing from a bend when it comes to a halt in the quiet marketplace.
A handsome youth alights from the car watching the surroundings and walks slowly into a kiosk serving tea.
Moments later, a little girl comes into the kiosk and is ridiculed by two odd looking persons who are not villagers from their looks while the handsome youth, who has heard enough of the fooling, comes to the aid of the child. It turns into a battle. Although the youth does not seem to be a fighter, he manages to bring the foe under control through tact.
He takes the girl in his car and she gets off.
He then comes to a house built on a rock with wood in the middle of stream. An architect by profession he is Kalpa. He has built this place as his get away from the bizarre town life. His hobby is researching on the history of man's abilities to create through his capability with science and technology.
A calm and quiet man by nature he is quite unmoved by danger and contemplates ways of escape, and through out this story are highlighted such incidents.
Electricity to his resting place is provided by the water wheel built in the front of his home. He does not use any other machine or communicational equipment there. On the other hand, no telephone signals are available there anyway.
A day later, while attending to his water wheel, he notices something shinning in the shallow water. He is unable to comprehend what it is. It resembles a pendent or lucky charm appearing to be a relic. Kalpa keeps it with him securely.
One evening he goes to the marketplace and meets the owner of the kiosk and apologises for the forgone incident. On his way back to the car he is stopped by a young woman, (appears to be the same one met previously) who gets into the vehicle by force. She begs him to drive away quickly and he obliges by driving out fast. Though troubled she does not speak.
She gets away and wants to spend the night at Kalpa's house. Offering her the only bed available he spends the night killing mosquitoes and in anger and wonderment with the sleeping girl. In the middle of night the girl babbles out having a bad dream her utterances are illegible. Early morning the girl is woken up and taken back to her place. She does not speak of her bad dream with Kalpa. He realises that she is the sister of the girl he met at the kiosk and the story continues there after with a lot of mystery and excitement.
The cast include Channa Perera, Sanath Gunathilake, Irangani Serasinghe, Hemasiri Liyanage, Nihal Fernando, Shalini Tharaka, Saman Almeda, Sandun Wijesiri along with many others.
The script is done by Kapila Kumara Kalinga, produced by Sunethra Balasuriya, Pirly Wijesinghe and Harsha Gamaathige.
'Mirigu Yathra' is directed by Channa Perera, a beloved actor of class who created a turn around in the local commercial film industry with the noteworthy lovable 'Anjalika' that even critics accepted as a turning point of the Sri Lankan cinema experience.
Incoming search terms for sinhala movies:
Related posts:
Tags: Channa Perera, Choreographers Shan Perera, Cinematographer Prabath Roshan, Iranganie Serasinghe, Make-up Artists Sameera Madhu Kidelpitiya, Music Director Rohana Weerasinghe, Producer Harsha Gamaathige, Producer Perly Wijesingha, Producer Sunethra Balasooriya, Shalani Tharaka, Sinhala Film Miringu Yathra, Sinhala Movie Miringu Yathra