Sri Lankan Sinhala Film Nimnayaka Hudakalawa by Boodi Keerthisena at Sandeshaya Sri Lanka
Sinhala Film Nimnayaka Hudakalawa Cast
Actor : Wasantha Monarawila
Actor : Lakshman Mendis
Actor : Kingsly Rathnayake
Actress : Sachini Ayendra Stanley
Main Actor : Saumya Liyanage
Main Actress : Sangeetha Weeraratne
Main Actor : Palitha Silva
Actor : Ravindra Randeniya
Actress : Samanalee Fonseka
Actor : Tissa Abeysekara
Actor : Vimukthi Jayasundara
Actor : Jayalal Rohana
Sinhala Film Nimnayaka Hudakalawa Crew
Make-up Artists : Kumara Galahitiyawa
Editor : Chandana Prasanna
Production Designer : Chandraguptha Thenuwara
Camera : Channa Deshapriya
Producer : Boodi Keerthisena
Director : Boodi Keerthisena
Music Director : Lakshman Joseph de Saram
Sinhala Film Nimnayaka Hudakalawa Movie Trailer
View more pictures and Videos…
View more pictures and Videos…
View more pictures and Videos…
Sinhala Film Nimnayaka Hudakalawa Movie Story
Ruwini JAYAWARDANA
Award-winning film director Boodee Keerthisena has always been a person who likes to try out something new and unpredicted. The maker of hits like Sihina Deshayen and Mille Soya began yet another chapter in his cinema career with the launch of his latest film Nimnayaka Hudakalawa (Children of a Silent Age) recently.
The story revolves around a creative director of an advertising agency going through an experience he has never encountered. His wife is pregnant and waiting to give birth at any moment but he has to be at office and sort out an urgent advertising campaign.
While at the office, he gets a phone call from his mother relating that his wife is rushed to hospital because she is about to give birth. On his way to hospital he encounters an experience which makes him fight his desires and fears. An unexpected turn of events await him at the hospital.
Saumya Liyanage, Sangeetha Weeraratne, Ravindra Randeniya, Nimmi Harasgama, Kingsley Ratnayaka, Sachini Ayendra, Palitha Silva, Suranga Ranawaka, Lakshman Mendis and others will play the lead roles in the movie which will be produced by Buddhi Keerthisena.
Popular television and radio personality, Kingsley Ratnayaka will make his debut as an actor in Nimnayaka Hudakalawa.
The original sound track is by Lakshman Joseph de Seram.
Ajith Kumarasiri will compose some of the Sinhala and Tamil songs. Channa Deshapriya is the director of photography while the production designing is by Chandraguptha Thenuwara. The screenplay is by Boodee Keerthisena and Kumara Galahitiyawa is in-charge of the make up department.
Award winning young filmmaker Vishwanath Buddhika Keerthisena has completed the filming of his latest direction 'Nirnnayaka Hudakalawa' (Solitude in a valley) and it is being in the post production stage.
Buddhika, popularly known as 'Boodee' shot to fame with his first to directions 'Sihina Deshayen' and 'Milla Soya' which won many awards at the Prestigious 'Sarasaviya', "Presidential" and 'Signis' Film award ceremonies in addition to viewer accolades. Among the other awards Boodee won 'Best Film' and 'Best Director' for his earlier directions and his latest 'Nimnayaka Hudakalawa' is to add another feather to his cap.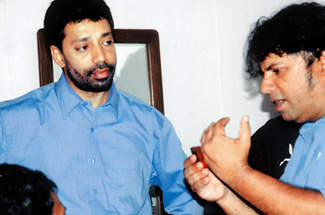 Saumya Liyanage and Boodee
In his latest Boodie has experimented painting a picture of several happenings and a chain of dreams within one night.
Boodees himself has created the story in this film and joined hands with Chinthana Dharamadasa of Guerilla Cinema Creations group to write its screenplay. Incidentally this is the first time that the Guerilla Creations group has pooled their talents with Boodee.
The films star cast includes Ravindra Randeniya, Sangeetha Weeraratne, Saumya Liyanage, Palitha Silva, Sachini Ayendra, Kingsley Ratnayake, Lakshman Mendis, Wasantha Monarawila, Samanmalee Fonseka and several other new actors and actresses.
Veteran film director and script writer Tissa Abeysekara plays a special role in the film while internationally acclaimed young director Vimukthi Jayasundara is also playing a character in it.
Lakshman Joseph de Saram who shot to prominence by having his debut in film music direction in 'Boodee's 'Mille Soya' bagging the Presidential award for Best Music Director wrote the musical score in 'Nimnayaka Hudakalawa' as well.
The film is produced by Buddhi Keerthisena.
Incoming search terms for sinhala movies:
Related posts:
Tags: Boodi Keerthisena, Director Boodi Keerthisena, Editor Chandana Prasanna, Jayalal Rohana, Kingsly Rathnayake, Lakshman Mendis, Palitha Silva, Producer Boodi Keerthisena, Ravindra Randeniya, Sachini Ayendra Stanley, Samanalee Fonseka, Sangeetha Weeraratne, Saumya Liyanage, Sinhala Film Nimnayaka Hudakalawa, Tissa Abeysekara, Vimukthi Jayasundara, Wasantha Monarawila